spotlight
Spotlight Series: Lola Getts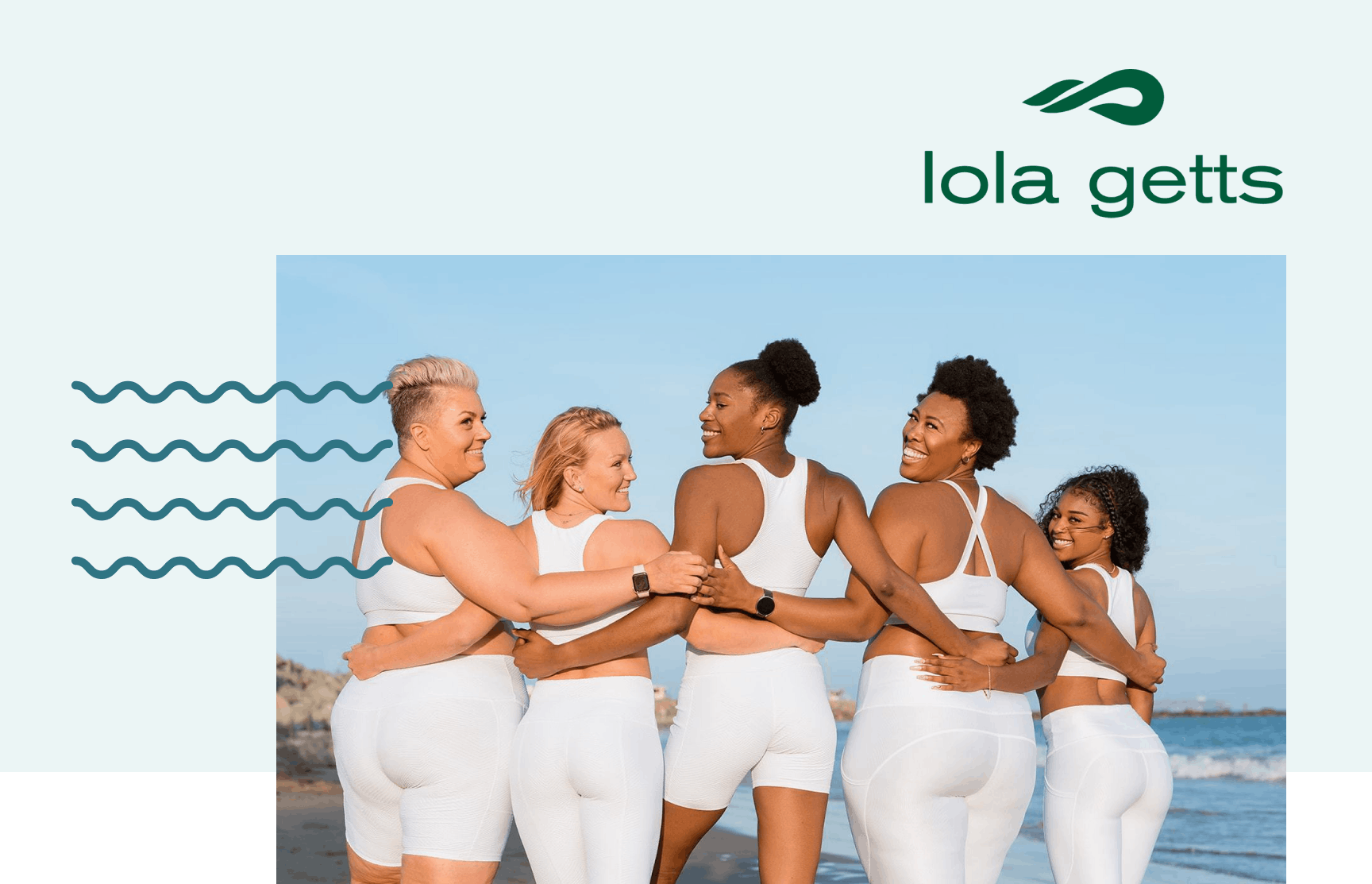 Moselle Research Team
At Moselle, we're built to support e-commerce businesses and help them to scale and grow. Since launching we've been working with e-commerce business owners to hear their stories and understand what they need to grow. Without their insights, feedback, and enthusiasm for new tech, Moselle wouldn't be where it is today. We're excited to put these entrepreneurs into the spotlight and showcase their incredible business ventures.

Lola Getts is a size inclusive activewear brand with the mission to provide the perfect fit. We've had the opportunity to learn from Stacey Goldstein, their founder, and to share key takeaways from her journey building Lola Getts.
What inspired you to start your ecommerce business, Lola Getts?
I saw a group of women that were being ignored when it came to activewear. They happen to be plus sized and nobody was willing to be a champion for her or make a product that would work for her body.
It was really all about serving the 70% of American women, who happened to be plus size. I knew that a pattern that works for a size 4, would never work for a size 14. That's why we need to approach each size category separately.
What sort of experience did you have building or managing supply chains prior to founding Lola Getts? 
Zero, I swear! I was a stay at home mom for 26 years, but I helped to build a lucrative medical practice.  
All of building the supply chain was all self taught from being resourceful, being mindful, reading a ton, and taking many phone calls. Also, thinking really far outside of the box. Even though everyone was trying to put me in one direction, I felt really strongly about doing what I felt was right - I really followed my gut after researching what I thought was going to work for Lola Getts. That meant keeping manufacturing close to Los Angeles, so that we could control all aspects of ensuring that we could make a product for the plus size woman that would fit her body perfectly.
For example, manufacturing for us originally in LA was more expensive than going to China. But I knew that quality control meant being able to go to a factory, which was key to making sure we got it right. I've seen so many people get burned when you can't make a site visit or it's not within driving distance or a quick airplane away. 
I wasn't willing to take the chance and you can get yourself in a lot of trouble. By the time something's on a boat and sent over you've already paid for them, that's your problem, not theirs.


What is it that makes your supply chain so unique? 
I think you have to look at untapped resources and figure out how you can make them work or move them into the supply chain and test little things out. We would never sew in a factory without seeing what their sample production looks like. 
People get caught up on price in the beginning, but sometimes the cheapest isn't the best - do your homework, do your research, and make sure it  makes sense for your business.
You have to be your own advocate - that's the most important thing.


What do you think is in store for the future of supply chains?
Well, I think that for apparel, forecasting out nine months in advance has got to go. I feel like we got into this nasty habit in apparel where the consumer was told what to buy, so you could forecast nine months in advance. I think we should be working on a 60 to 90 day turnaround time, so that we can better react to consumer trends along with managing inventory more efficiently.
There's a lot of companies filing Chapter 11, because of their supply chain issues and these factories that relied on retailers or manufacturers that didn't honor their contracts or missed payments.  It can't go on like this, the supply chain is totally broken as far as apparel goes.
You mentioned how it used to be these big brands telling consumers what's trendy, but it's been flipped. What do you think has made that big switch?
Definitely direct-to-consumer model and social media. Years ago, a brand didn't have a relationship with the end user, regardless of what you made. Now, because of social media, you can have a relationship directly with your customer. Consumers can come on their website and buy directly. So, I think we've changed how we do business by really listening to the consumer and figuring out ways to pivot quickly to suit their needs. 
What is your superpower that helps you in your business?
Having an open mind and willing to ask for help from an expert. 
What has entrepreneurship been like for you?
It's extremely hard and  stressful. You have to be prepared for  the  anxiety and stress if you're going to do a direct to consumer brand. And anyone that tells you that it is easy is lying! You often wake up and say "Oh my God, what did I get myself into?". 
It's important to stay focussed and be mindful of the mission you're committed to. That really goes back to the people that you're serving.
What advice do you have for anyone looking to start a DTC e-commerce business?
Realize it's really expensive. I don't care what you manufacture, it's going to be expensive. Anyone that tells you their marketing went viral overnight, doesn't tell the whole truth.
The other thing is don't take a lot of money in the beginning, learn the struggles. When you do finally take money, you are much more cautious with how you spend it. Operating lean is an undervalued skill. 

What are you excited for next for Lola Getts?

Quite a few exciting things in the pipeline! Thanks to the new NCAA rules, we've just partnered with female student athletes, not only to make them brand ambassadors, but to give them a platform to build out their own brands.
The mission for Lola Getts has been to not only create a great product, but to also create a community of strong women that truly want to empower others.